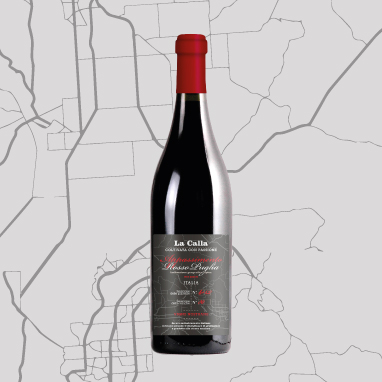 La Calla
APPASSIMENTO ROSSO
PUGLIA IGT
Grapes
Merlot, Primitivo, Negroamaro
Denomination
PUGLIA IGT, VINO PASSITO
Production area
Apulia Region, Salento area
Climate
The climate is warm and temperate, with significant rainfall all year round. During the summer the African winds cause rapid and marked rise of the thermometer and high temperature variation
Harvest
Beninning of October
Alcohol (% VOL)
14,5% vol.
Production area
Sicily Region
Climate
Sicily, the "land of the sun", has a Mediterranean climate along the coasts In the inland areas instead the climate becomes slightly more continental at hilly levels, with moderately cold winters and hot summer.
Harvest
Hand made, mid September
Alcohol (% VOL)
13,5% vol.
Production area
Veneto Region
Climate
Temperate, mitigated by the sea, the chain of the Alps protects it from the northern winds Winters are cold and wet, summers are hot and sultry with medium temperature excursions.
Harvest
September and October